The Stockton Water Ski Club (SWSC) is the 2nd oldest water ski club in the United States.  The Island, owned by the club, resides in the heart of the California Delta off of the Stockton Shipping channel, West of Stockton, CA.
Since 1949, members have been spending time on and around the "Island" pursuing activities, interests, or simple leisure. The Island is close enough for an easy day excursion or weekend camping trip, but far enough away to escape and recharge.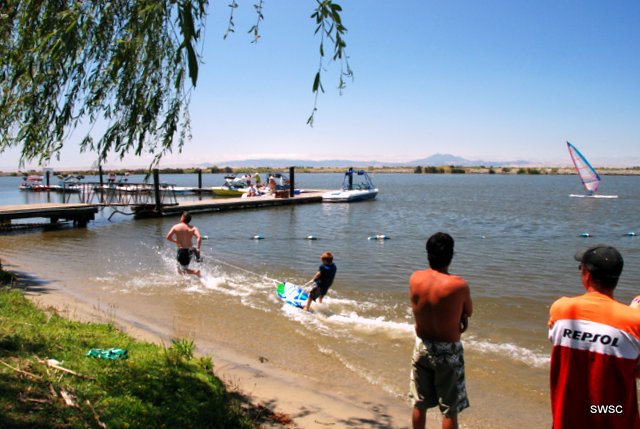 From the very young to those "who know a thing or two", there is always something to do, or not do, on the Island. Water sports like wakeboarding, waterskiing and knee boarding are always a focal point. However, participation in a water sport is not a prerequisite for having fun. SWSC is also a boating club; many enjoy comparing boats and cruising the 1,000 miles of Delta waterways to many popular destinations. Others enjoy simply spending time on the island. For the ambitious a horseshoe game is almost always underway…practicing for the annual tournaments, no doubt. The Island also sports a volleyball court, for those inclined. For the less ambitious, the beach across the front of the club is where you can lie out with a good book and work on your tan or the docks are a great place for drowning a few worms.
For the kids, the club maintains a roped swim area with swim platform, swing sets, large
grass areas for running, jumping, and playing. There is also plenty of undeveloped acreage for exploring. For all the island is equipped with amenities you would want. They include:
Bathroom facilities
Shower
Large BBQ pits
Plenty of picnic tables and benches
Campfire pit
Clubhouse with electricity and sink to clean dishes
Pump to blow up air mattresses
Two large docks to secure your boat
Plenty of friendly members with whom to sit under a shaded tree and shoot the breeze.
Another major Island benefit is its location. Do you like going out for breakfast, lunch or dinner?  We are located close to what is known as the delta loop. Delta Loop. The Loop offers great dining, dancing and more. Additionally, the club is minutes away from a full service Marina, Herman and Helens. H and H harbors a store, restaurant, and fuel.